Michael Taylor reviews a film on cyber-cons in Ghana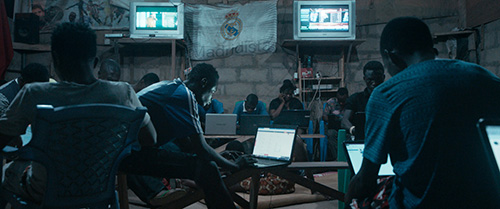 Sakawa is an interesting, though ultimately underwhelming documentary film. It foregoes the traditional interviews and pieces to camera that one might expect from a documentary, instead focusing on an observational style of storytelling. We follow a group of young Ghanaian men and women as they attempt to make a living by scamming European and Americans through dating sites, phone calls and more. Lacking any narration, the question of whether the activities of these men and women is justified is left up to the viewer, which I do believe was the right decision on director Ben Asamoah's part. The film shows the poverty of the area that these individuals have grown up in, and how they long for a better life. It also shows how exploitative some people can be towards those in less privileged positions. By the same token, the film never tries to pretend that what these people are doing isn't unethical. We see these individuals combing through their target's family photos, home addresses and other personal information with little concern as the con and coax them out of hundreds of dollars at a time. The film is quite explicit and does not shy away from the adult language and themes that one might expect from this kind of online activity.
While this context is certainly interesting, and indeed shocking, the film has very little to add to its premise and remains an observation. Indeed, if this is not your first 'the dangers of the internet' type documentary, then there is very little that is new that Sakawa brings to the table. The film itself is of very high quality, with clear and well-framed visuals, but does little more than give us a look at the lives and occupation of these individuals. If you want to learn more about how or why the situation in Ghana is like this, then you will have to do your own research. An observational-style documentary lives or dies based on the strength of its story and characters I am not convinced that the 82-minute runtime was justified. It's likely that you will have seen a Sakawa already but in a more interesting or informative format.