Temba Mkosi questions the film's account of history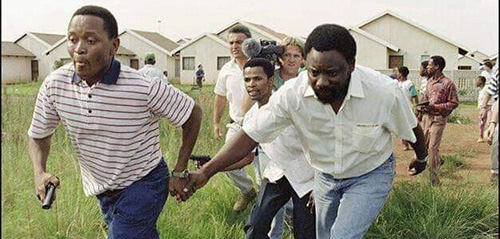 This short film directed by Petunia Mokoena is as gripping as most of the political documentaries made about the history of South Africa. The Bisho Massacre: Who Pulled the Trigger? explores the chilling accounts of the 1992 Bisho Massacre involving the African National Congress and the Ciskei Defence Force – a bloody chapter on the road to the first democratic elections of South Africa in 1994. The massacre is one of many events that remain swept under the carpet of South African history much like the 2012 Marikana Massacre involving the SAP.
The documentary revives the tragic events of apartheid and seeks to question who gave the command to pull the trigger. Mokoena reminds us of the twenty-eight ANC supporters who lost their lives for the liberation of the independent Ciskei bantustan to attempt to re-incorporate it into South Africa. While the massacre event is well documented, Mokoena fails to tell with objectivity the two sides of the tragic events and the role of ANC in using the masses as pawns for their political goals during the CODESA talks.
I grew up in the former Ciskei and understand that the story of the 1992 Bisho Massacre is more complex than the ANC propaganda most shown by the media to paint the ANC as helpless saints. I believe the ANC is not as innocent as portrayed in this documentary and would have expected to hear both sides of the story. The 'Who Pulled the Trigger?' tagline is what pulls the audience into the 24 minute film. However, one is left wanting and Mokoena fails to mention the role of international communism and the Soviet Union's backing of the ANC towards the 1994 elections. There is no mention of the Vietnamese inspired Marxist People's War strategy or the necklacing used by the ANC against the IFP and non-ANC supporters in Ciskei before the 1992 Bisho Massacre. The build up to the massacre is as important as the event itself and this documentary hardly enlightens the audience about the wider context. It generalizes the situation in the Bantustans and completely ignores the involvement of the UDF/ANC/SACP alliance in getting Oupa Gqozo to overthrow Lennox Sebe in 1990.
George Orwell once wrote "the most effective way to destroy people is to deny and obliterate their own understanding of their history." This documentary distorts the history of Ciskei and the ANC. The interview sources are all on one side and none were citizens of Ciskei. The documentary fails to interview both ANC aligned people and the people who lived through the time period in the homeland. Neither Oupa Gqozo, now a King William's Town pastor, nor the surviving Sebe relatives are included for balance. The story of the Ciskei is more complex than the documentary portrays and I found little surprising or new towards a fuller understanding of the Bisho Massacre.