Leago Mamabolo reviews a student production about naming and destiny.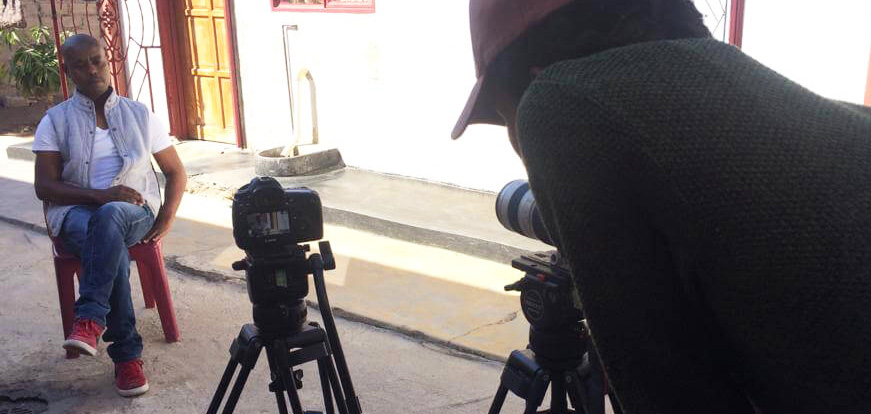 How do we contextualise where we are from? The film Re Bo Mang? (Who are we?) does this by begging the question of, "what's in a name?". Centred around the directors, Karabo Magofe Mahlaela and Dimpho Edwin Mabodimo's Pedi community, the film reveals that there are contesting opinions and views on the issue of how much impact a name has on one's life. There are two main characters, Thomonodah Mohlala and Odirile Makola, whose stories the film follows. The film is screened in the South African Student Film category at Encounters 2020.
The documentary is set in a blend of rural and urban Limpopo where diverse voices share what they think of how a name directly impacts one's life. The name Dikeledi (tears), for example, is used to describe how the person of this name will go through their life crying. Typically, the older generation believes the youth has forsaken their traditional culture by not following naming ceremonies and procedures and by not believing the impact of a name in determining their destiny. While this is not the case for all young people the film suggests that while youth may not initially believe in the destiny foretold in a name, life's trials and tribulations or good fortune aligned with their name, can get them to believe the effect. We see this in the case of Thomonodah in the film. In general, we see examples of this in instances where people search for their paternal families or fathers to perform a ceremony called imbeleko (naming ceremony) which serves to welcome and incorporate a child into their clan or tribe. A person who does not know their paternity may feel their life is not going right as a result of not having had the crucial rituals such as imbeleko performed for them. An example is the case of renowned South African footballer, Jabu Mahlangu who changed his name from Jabu Pule. After the change he became an upstanding citizen and role model. We see many of these cases screened on reality shows such as Utatakho and Khumbul'ekhaya.
This is an important film to understand the rich African context of naming. In this context individuals are active agents in the construction and realization of their being, and are also influenced by other individuals (society and the physical world) as well as non-physical elements. Both elements form each human and their general cycle of life. The non-physical elements include the supernatural world where ancestors and evil spirits can impact the outcome of a human's actions and are incorporated into our everyday realities. When faced with challenges, Black South Africans often consult spiritual healers or elders to interrogate what is wrong in their spiritual world as opposed to seeking counseling or finding a new job. The film falls short at points where characters other than the main characters are not adequately introduced. This is ironic for a film focused on the importance of naming. Perhaps this is intentional to avoid viewers drawing conclusions about characters based on their names. Overall a recommended documentary you can view for free at the Encounters 2020">virtual festival.